Uncovering Hidden Values
When we first created a marketplace where unused surgical supplies could be put to good use rather than sitting and ultimately being discarded, people looked at us skeptically. While the idea saved money for our customers, simplified their inventory, and prevented unnecessary waste, did they want to trust their patients' lives and the quality of their practice to this new way of managing supplies?
It's About People
Two decades and thousands of transactions later, the answer is yes. And the reason it works is the people here who manage each transaction, who uphold our promise of fair value and responsive service, and take seriously their role in making health care work better for our customers and the people they serve.
Recognition For Excellence
Our attention to detail and follow-through has been noted in the industry. We were honored with the 2013-2014 Platinum Supplier Award from MedAssets, one of fewer than 5% of their 1,800 suppliers. In 2019, for the sixth year in a row, WestCMR was named one of the 150 Great Places to Work in Healthcare by Becker's Healthcare.
Every day at WestCMR, over 55 of the most experienced professionals in healthcare dedicate themselves to living up to our customers' expectations, as they use market-driven forces for the greater good.
We're growing and are always looking for good people. Have a look at what's available here.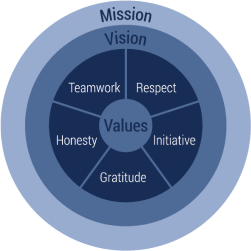 Our Mission
We understand that our way is a challenge to the status quo. We want to change how not only our customers, but everyone in healthcare thinks about how excess surgical supplies are managed.
---
To that end, we underpromise and overdeliver. We make every interaction with our clients enjoyable and productive. We ensure that every transaction is ethical, legal, and safe. And we are always willing to consider unconventional solutions that solve the problem.

Our Vision
Our vision is to provide a reliable, efficient, and sustainable alternative to how excess surgical supplies are bought and sold. Working with us, our clients and customers are able to lower costs, reduce surgical supply waste, improve the environment, and ultimately advance patient care.

Our Values
These are the unchanging principles that WestCMR is built on. We would hold these values even if we weren't part of the same organization. In fact, we can say that WestCMR is these values in the form of a company.
RESPECT
We respect those we work with and expect the same in return. We can be counted upon to do what we say we will do, and strive to build every relationship on a foundation of mutual trust, compassion, and respect for the other.
INITIATIVE
We are passionate about our work, and we have the courage to push the limits of what is possible. We continuously work to improve, to be the best at what we do, an industry leader and an example to others. We are not shy about pursuing our goals.
GRATITUDE
We know we are fortunate to be able do what we do. Every day, how we approach our work begins with this knowledge and appreciation. We strive to be generous, offering our time, talent, and treasure to those in need.
HONESTY
We always do what is right, no matter the circumstance. Doing the right thing gives people confidence in us, allows us to approach our work without hesitation or calculation, and to serve our clients, customers, and coworkers with a smile.
TEAMWORK
We are there for our team members when they need us. We aim high, and work with each other to reach our goals. We pick each other up when we fall, and celebrate each other's triumphs. We understand that we succeed, or fail, as a team.